Pengelly's Daughter: A sweeping Cornish saga
Rose Pengelly's father has been ruined – plunging Rose and her mother into poverty. There appears to be only one way out of their terrible circumstances: for Rose to marry Mr Tregellas, a powerful timber merchant and the man Rose believes responsible for her father's downfall. He has made his terms clear: either she marries him or faces destitution.
Desperate, Rose sets out to find evidence of Mr Tregellas' wrong doing. In her search, she encounters a mysterious young sailor called Jim, who refuses to disclose his true identity. Even as she falls in love with him, she questions who he really is. He may help her restore her fortune and her good name, but does he ever tell her the truth?

Member of the Historical Writers Association and the Romantic Novelist Association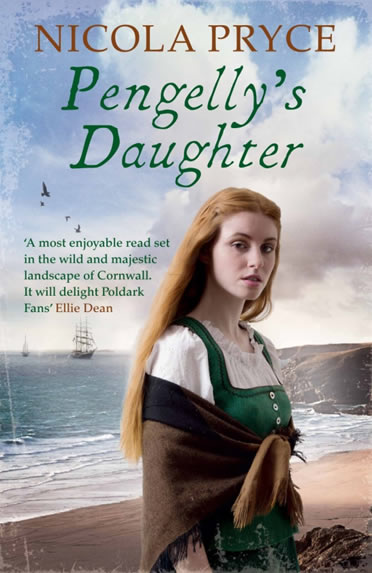 Cornwall: 1793. It is a year of turmoil: England is at war with France. Mr Pitt's government is frightened that radicals and dissenters will join forces with the Jacobins to encourage riot. It is not the time to be at odds with those in authority and not the time to be a woman faced with an unenviable decision. Yet, Rosehannon Pengelly has just three weeks to make her choice.
Fosse and Porthruan cling to inhospitable rocks on opposing sides of the river. The river is deep, the harbours sheltered, the small, terraced cottages rising steeply from the quayside. Boats tie three abreast against the bustling town quay while huge ships lie at anchor, waiting to catch the tide.
It is not a place to be alone at night. The taverns spill over; sailors spoiling for a fight. The press gang are watching, the dark, twisting alleys anything but safe. It is no place for a woman, no matter if she's dressed in men's clothes.
Brought up as the only child of a dissident boat builder, Rosehannon Pengelly has learnt to question the society within which she lives. Her father has installed in her a sense of injustice, the voting system needs to be addressed; rotten boroughs are rife, bribery and corruption, the norm. But where did it get him? His once prosperous boatyard now boasts another's name. Bankruptcy and ruin leave Rose and her mother among the most vulnerable in the town.
An advantageous marriage would change their circumstances, but to marry a man you believe to be behind your father's bankruptcy? Rose has no-one to turn to and no-one to trust – certainly not the dark sailor she stumbles upon in the moonlight.

"But what are words when actions speak so much louder? The knot in my stomach gave one further wrench. He said nothing, but his hands went straight to his chest, pressing against his heart. I remembered the gold chain, the beautiful ring that had shone with such brilliance and the taste in my mouth turned sour. There are some things a woman need not be told. Cursing my weakness, I turned quickly away, walking briskly back through the undergrowth."

'No, I did not want a boat – I wanted the boatyard. I wanted every hoist and pulley, every plank of timber, every pole and spar. I wanted every coiled chain, every barrel of nails, every shackle, every trunnel, every pot of paint and varnish. I wanted every sack of hemp, every bag of oakum and every last handful of horse hair. I wanted it back. All of it… ' Page113

'I sat in the stern as he rowed me back. I should have sat in the bow where our eyes could not meet. I should not have watched the grip of his wrists, the pull of his muscles. I should never have imagined the touch of his hands or watched the toss of his head or the tightening of his mouth.
If I had sat in the bow and watched the river, my heart could have hardened. I could have parted with indifference, but as we climbed the cliff path and the cottages came into view, my heart was aching. To the east, the grey light of day revealed the night was nearly over…' Page 328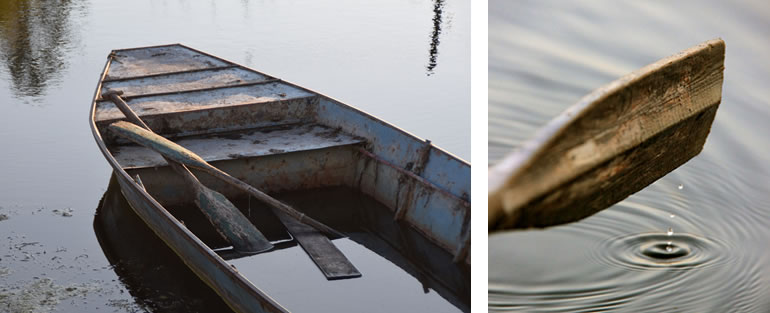 The setting
A number of you will recognise Fosse, the town in my books, as Fowey, and Porthruan as Polruan, and you may wonder why I've changed those names yet still use Truro, Falmouth, Bodmin etc. The reason is that my hero, Sir James Polcarrow, may be influenced by Charles Rashleigh but he remains a totally fictious character. The real life Charles Rashleigh was a trained lawyer and created the port of Charlestown. He was born in Menabilly, not Place House, which is the inspiration behind my fictional Polcarrow, and it is in the interests of accuracy that I separate the two.
I'm hoping that you may have read the book – in which case, you may like to note the crenulated wall around the gardens of Place House that Rose crawls along in the fog. I've also added a photo the house which is the inspiration behind Coombe House – see how close that tree is growing?

The inspiration behind my characters
Marie-Jeane Rose Bertin
At the centre of my story is a dressmaking establishment. At the end of the eighteenth century the trend towards simpler gowns was accompanied by lighter fabrics. The previously heavier satins and silks gave way to muslin, cambric, and linen. White and lighter colours became fashionable – as did sprig and spot patterns. Heavy gowns often required input from tailors but these lighter fabrics were more manageable and many seamstresses set up businesses as dressmakers. During the French Revolution, French dressmakers followed the émigrés, including Marie-Jeane Rose Bertin who was the dressmaker to Marie Antoinette. My character Madame Merrick is one of these French dressmakers.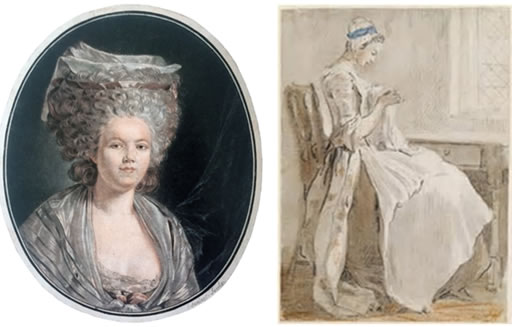 Absentee Members of Parliament and Rotten Boroughs
Politically it was a time of bribery, corruption, and patronage. There was no secret ballot and voting rights were jealously guarded. A small town like my fictitious Fosse could send two MP's to Parliament while the large expanding towns like Manchester could only send one. Votes could be bought and controlled, properties were left empty. The promise of contracts and lucrative positions were given only to those who voted for the right person. My fictious character Sir Charles Cavendish MP is one such politician!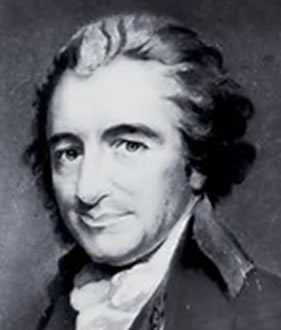 Thomas Paine
Members of the Corporation held tight to their lucrative positions and for a shipwright to challenge them could lead to bankruptcy and ruin. With the publication of Rights of Man in 1791, anyone supporting the views of Thomas Paine was considered a dangerous influence and my character, Pascoe Pengelly, a hard working but radical shipbuilder, pays the price for his dissident views.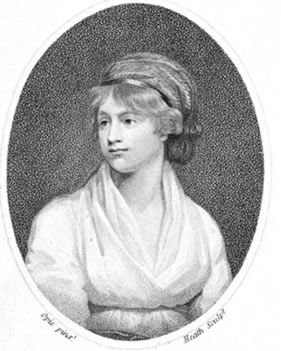 Mary Wollstonecraft
Pamphlets were widely circulated at the time of my books. Many women had access to polemics and the spread of new ideas and I've long wondered what effect a publication like A Vindication of the Rights of Woman by Mary Wollstonecraft would have had on a woman reading it when it was first published in 1792. It certainly caused a stir, and my heroine Rose Pengelly is heavily influenced by it in her desire to see women educated.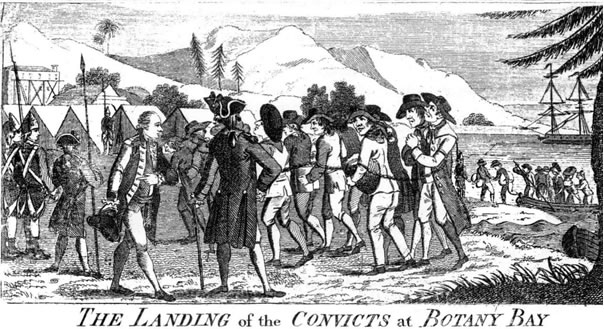 The deportation of convicts
After the American War of Independence, British convicts were sent to Botany Bay in Australia and no longer sent to America. However, Mr George Moore, a London merchant and George Salmon, a prominent Whig, decided to ignore these new restrictions. Their ship, the Swift, sailed in 1784 with 104 convicts on board disguised as indentured servants.
When I discovered this, everything fell into place and I started writing my debut novel.
Reviews
In her debut novel, Pengelly's Daughter, Nicola Pryce has conjured up a stirring Cornish tale of skulduggery and deception in which the feisty heroine, Rosehannon, has to battle with not only the prejudice against women, but evil forces which have brought her poverty and threat of marriage to a man she loathes. A most enjoyable read set in the wild and majestic landscape of Cornwall. It will delight Poldark Fans.     Ellie Dean
Nicola Pryce paints a truly memorable picture of the sea-faring community of Cornwall in this novel.  Irish news
A good honest yarn in the Poldark tradition. Saga Magazine
I absolutely loved everything about this story, as it is so much more than just a historical romance. At its heart, Pengelly's Daughter is a swashbuckling adventure that will have readers on the edge of their seats. The book is extremely well researched and as it is set in Cornwall in 1793, there is a lot of period detail that makes the story a truly immersive one. As part of the story is set in a boatyard, the author has gone to great lengths to accurately describe the boat making process and use the correct historical terminology. She also gives us a fascinating glimpse into the politics of the time and how corrupt the political system was. Louise Jones: The Book Bag (Read Review)
If you enjoy a lively historical adventure, with a hint of mischance and a dash of romance, then I highly recommend Pengelly's Daughter as a good historical family saga. Jo (Read Review)
With a hero who is more than a match for Ross Poldark, this is a fast paced and fun historical romp through Cornwall. Vicki Reading in Wellies   (Read Review)